Creating SPOTS & it's Release:
May 18, 2005 - Phoenix, AZ

As April Fools Day 2005 approached I was on the edge of my seat to see what kind of Burning Man related Web Site Parity would show this year. The previous Iterations of Costco Soul Mate Trading Outlet & last years Travelocity takeoff were priceless...

Recently I have been on a Web Design Tear as I had just launched a new site for Gary Taylor & Radio-Electra FM. So as I was on the edge of my seat, and design pumped, so I thought why not create my own BM Web Site Parity...

I spent more than two weeks thinking about what to create and how to design it, but then it came to me like a Flash, Like a Vision BURNT across the sky...

SPOTS - Superior Portable Outdoor Tinkle Stations

Obviously a take off on JOTS - Johnny on the Spot

SPOTS tag line is 'Providing Burning Man a Place to Go!!...Since 1995'...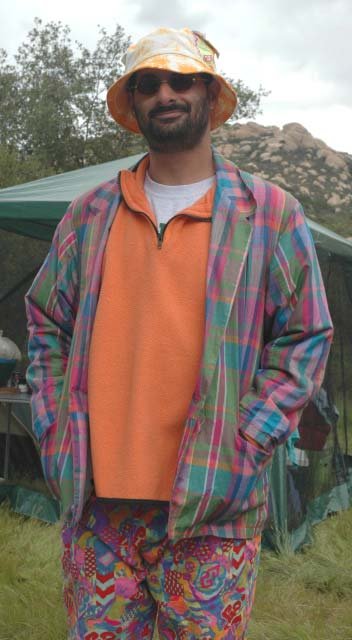 I thought the concept was pretty ingenious myself, now all I had to do was come up with some content.

The four stories about BMORG and SPOTS negotiations, lawsuits, agreements and financials all kind of came together in a few days.

So I needed some Porta Potty Images and set out to search the web. Did you know that there are not a lot of pictures taken of the Porta Potties at Burning Man.

I continued to tweak the site over the next few weeks and then came 'Tea Time for my Soul' March 31st 11:50p, LAUNCH HOUR!

I posted the SPOTS Web Address and Tag Line to EPlaya and other Burning Man related Yahoo Groups and lists I am part of. Now it was YOUR turn to enjoy SPOTS.

From those postings the word on SPOTS had started to spread and propagate across the Internet.

12 hours later, SPOTS had taken 507 Hits
18 hours 613 hits.

I had some Burner friends on the East Coast feeding me information during the day about when SPOTS hit certain lists. It took until 12:45p EST for it to reach the NYC-List and an hour later for it get to the Balt-Wash List.

SPOTS was posted to countless Groups and Lists throughout the next few days, including, Hushville, Campamozon, HeeBeeGeeBee Healers and the following Tribe Lists (Portland, Las Vegas, Chicago, Los Angeles, Sacramento, Nevada, San Diego & Montreal) Those were the places I was able to track through the Free Counter I had on the site.

During the day I received several Kudos emails, and was able to watch and laugh as I read people being duped and then set straight by those that realized it was April Fool's Day.

As of May 18th SPOTS has taken 950 Hits. I hope all of you that visited the SPOTS site enjoyed it as much as I did in creating it.

Peruse the SPOTS Comments I received over the course of several days as SPOTS was seen by the masses.

Also see a SPOTS sighting at the Burning Man Town Hall Meeting, April 2nd in San Francisco